Dum chicken masala recipe is a traditional and very delicious recipe in Asia and in especially Hyderabad which is located in India. Now you may know India and Pakistani foods are very famous due to their traditional food recipes.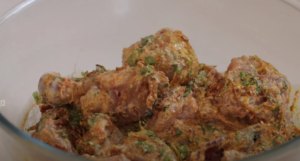 How To Make Dum Chicken Masala?
Now in this dum chicken masala dish, you need some basic ingredients that are available in your kitchen and after that, we marinate this chicken with these ingredients and after that slow cook in dum style. After that, you can feel the creamy aroma and aroma of flavorful spices you really loved it believe me.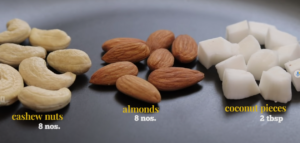 What Is Meant By Dum Masala?
You may be wonder about the word dum basically dum derived form of "Dum Baksh" which means "To Give Breath To" this means a special technique to slow-cook in a vessel sealed with a tight-fitting lid and that is only for steam is prevented from escaping.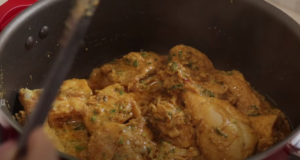 Some Key Benefits Of Dum Masala Recipes.
If you cook any kind of chicken in dum style then there are various kinds of benefits and the main one is that meat is tender and juicy because of airtight environment and all the flavors of spices and curd just inside of the vessel and the meat is cooked in its own juice, I think you understand what I mean to say.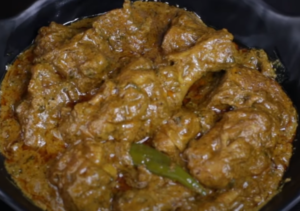 For Getting Some Best Results.
If you want the best of best results then you may use boneless chicken but this is not necessary. For more delicious flavor garnish this dum masala dish with deep-fried onion, coriander leaves, mint leaves, and a squeeze lemon this is mind-blowing, Okay enjoy.
Can We Use Lamb Meat Instead Of Chicken?
Of course why not you can use lamb instead of chicken and keep all things are same. Now your legs and shoulder meat of lamb for better results, and obviously this will not take the same time as chicken take. You may put more time into the dum lamb masala recipe. Because meat takes more time to cook as compared to chicken. So stay calm and enjoy your dish ASAP.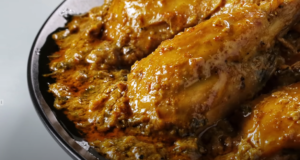 Can We Make It At Weekend In Main Course?
Surely, you can make it any time you want there is no problem. But if you try out this dum masala on the weekend night at your dinner with the whole family, trust me this will make it more flavorful and zesty. Your whole family loved this zesty flavor dum masala recipe. You can use this delicious aromatic dum masala dish as the main course in your lunch or dinner meal. This is also perfect for some special events like parties, home parties, buffets, and potlucks.
---
Prepare time: 10 min      Cook: 1 hr min      Ready in 2 hr  
---
Ingredients For Dum Chicken Masala Recipe

:
750 gms Chicken with bones.
3 medium Onions, sliced fine.
150 gms Thick curd.
1 cup (1 bunch) Coriander leaves, finely chopped.
Turmeric powder 1/2 tsp.
Ginger-Garlic paste 1 tbsp.
Garam Masala Powder 2 tsp.
Black pepper powder 1/2 tsp.
Red Chilli Powder 2 tsp.
Few strands of saffron soaked in 2 tbsp of warm milk.
Salt 1/2 tbsp or to taste.
Oil 4 tbsp.
Juice of lemon 1 tbsp.
To be roasted & ground to a paste:
8 nos Almonds.
8 nos Cashew Nuts.
2 tbsp Coconut pieces or you can use coconut powder.
Preparation Process:
First of all, take a pan and fry the sliced onions in oil till these onions turn into light brown color.
Then remove, cool, and crush with your hands.
Now dry roast the almonds, cashew nuts, and coconut pieces in a pan for 2-3 minutes.
After that once cooled then grind to a paste in a mixie/blender one you have.
Marination Process For Dum Chicken Masala Recipe:
First, of all take a bowl and put your chicken in this bowl.
After that add all the ingredients other than the oil that is mentioned above and marinate chicken with them.
Mix properly and set aside for about 2 hrs.
Directions For Dum Chicken Masala:
The very first step is that take a heavy bottom pan and pour 1 tbsp of oil into the pan.
Now arrange the marinated chicken evenly so that all the chicken pieces are in one layer.
After that pour 3 tbsp of oil on top of the chicken pieces uniformly and properly.
Now place the pan on the heat on a medium heat/flame and after 2-3 minutes, lower the heat to a minimum and cover the lid.
Then after 10 minutes lift the lid and mix all the chicken properly.
Now put the cover back on the pan and cook on dum for around 30 minutes.
After that you can check the chicken, mixing a few times in between just to make sure that there is enough water to cook the chicken.
Finally, serve hot with roti.
Closing Notes:
You can serve this delicious and creamy dum chicken masala recipe dish with chapatis, steamed rice, or roti or naan whatever you prefer. Now if you top dum masala chicken with ring onions, lemon juice, and chopped cilantro the believe me this makes this dish more spicy and delicious.
There are lots of effort that I put to make these zest flavorful and unique kind of recipes. so if you really enjoy this one then just show your love and experience in the comments below, that's it because this will pay off my hard work.
If you try out this super delicious and full of aroma flavor recipe then don't forget to rate this recipe and also give your reaction in the comment below, because I love hearing from you. Thanks,