Creamy Italian Hot Chocolate Recipe!!
Creamy Italian Hot chocolate recipe(chocolate calda) Italian name, is a very popular beverage in Italy as well as around the world that is very easy to make. You can make this anytime you want in your home just in few minutes.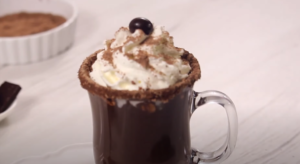 The hot chocolate recipe basically a combination of cocoa powder and chocolate which makes this hot chocolate very flavorful and delicious ready in a minute.
The hot chocolate recipe can be made in many ways like cocoa powder or chopped chocolate so it's your choice how you can make this. But today you will learn step by step how you can make a hot chocolate recipe with cocoa powder with very simple steps.
Hot Chocolate Cup For Cold Winter Morning.
The creamy Italian hot chocolate recipe is smooth, thick, creamy, and warm. A full cup of creamy Italian hot chocolate garnish with whipped cream and believe me this is the perfect way to start your winter morning with this hot cup of chocolate.
If you never tried creamy Italian hot chocolate in your whole life before, just follow all the steps that are given below and make the creamy Italian hot chocolate recipe in your own kitchen very easily.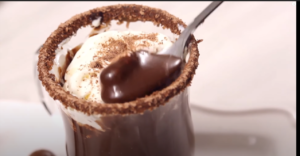 Creamy Italian Hot Chocolate Recipe:
This creamy Italian hot chocolate just fresh-up your mood, whenever your try this hot chocolate. Now, if you want to level up your hot chocolate level and give an extra boost to your Italian hot chocolate.
Then just garnish with whipped cream and marshmallows, believe me, foodies. This combination just blows your mind. This is the perfect rich Italian hot chocolate treat for your perfect weather.
Some Topping Options For Your Creamy Italian Hot Chocolate Recipe:
There are some extra options, and use them to top your rich Italian hot chocolate with these ingredients.
These are some of my favorite toppings options:
Mini Marshmallows.
Whipped Crea.
Extra Cocoa Powder.
Toasted Crushed Hazelnuts.
Pinch Of Salted Caramel Sauce.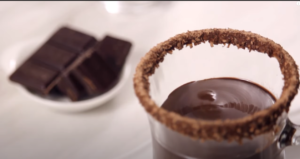 Some Of The Key Features Of Creamy Italian Hot Chocolate:
The creamy Italian hot chocolate recipe:
This hot cup of chocolate loved by all age group members.
This is a perfect treat for the holiday season and for cold weather.
This hot cup of chocolate is creamy, thick, and delicious.
No long time required, just ready in under 10 minutes.
Perfect hot cup for weekend movie night.
Made with real and original dark chocolate.
What Is Meant By Italian Hot Chocolate Recipe?
Basically, creamy Italian hot chocolate is a cup of drinking chocolate that is top with whipped cream and the taste of this cup is super creamy and fantastic. Believe me, you feel like you are drinking thick chocolate sauce. And I know everyone loved a cozy and warm chocolaty soup
Now, if you use pure quality dark chocolate and unsweetened cocoa powder, believe me, this combination makes this hot cup of chocolate more delicious and more flavorful.
And if you garnish this creamy Italian hot chocolate with some marshmallows and whipped cream just right before you serve this hot cup of chocolate. This will take your Italian hot chocolate to the next level.
Personally, I tried many kinds of hot chocolate recipes, but this is my very favorite one. In this recipe, we just use some simple and basic ingredients, but the taste is amazing. And the taste is the same as you get from any of your favorite cafes.
Can We Store Hot Chocolate?
If you have hot chocolate leftover, just cool down properly before storing it. After completely cool down. take an air-tight jar and store it in the refrigerator.
After cooling, this hot chocolate turns into chocolate pudding. So, you can enjoy this hot chocolate as chocolate pudding. It stays good/fresh for up to three days.
Can We Reheat Hot Chocolate?
Yes, you can reheat your Italian hot chocolate. Take a saucepan and add some cold milk in the saucepan along with Italian hot chocolate. After adding both things, just whisk properly until they are combined.
After that reheat it on a low flame on the stovetop until it's hot and steamy. Remembers, stir your hot chocolate constantly, if you don't stir, it will stick to the bottom.
Can We Make Even Sweeter Italian Hot chocolate?
Yes, you can make your Italian hot chocolate sweeter. Just use dark chocolate and semi-sweet. In this recipe, you can also increase the amount of sweetener.
---
Prepare time: 2-4 min      Cook: 6-8 min      Ready in 7-8 min 
---
Ingredients For Creamy Italian Hot Chocolate Recipe:
Dark chocolate – 20 gram(3/4 oz).
Corn starch 2 tbsp.
Granulated white sugar – 3 tbsp.
Whole milk (Slightly warm or room temperature) – 1 cup + 1 tablespoon (250 ml).
pinch of salt – 1/2.
Unsweetened cocoa powder – 3 tbsp.
Ingredients For Garnishing:
Grated, dark chocolate.
Nutella.
Here use unsweetened whipped cream – Whipped cream.
Directions For Making Creamy Italian Hot Chocolate Recipe:
First of all, we prepare our serving cups to serve Italian style hot chocolate.
The very first step we do is upside down our cups and dip them in nutella until they are evenly edged nicely.
After that, now we dip our cups in grated dark chocolate.
For Preparing Creamy Hot Chocolate Recipe:
First of all chop the dark chocolate finely.
After chopping, take a small saucepan and shift the cornstarch and cocoa[owder in this saucepan.
Now, we add salt and sugar and combine them.
Add around 3-4 tbsp of whole milk and stir well to combine.
Make sure to add the rest of the milk gradually.
Now, we cook this mixture on the medium-low flame while often whisking it.
When we see it, it starts to slightly thicken, then adds the chopped grated chocolate, combine everything nicely, and ring it to a boil.
Finally, serve this hot chocolate immediately into your serving cups and garnish this hot chocolate with whipped cream nicely(i personally use unsweetened whipped cream in this recipe to exalt the chocolate flavor, But if you don't like unsweetened chocolate, you can use sweetened chocolate).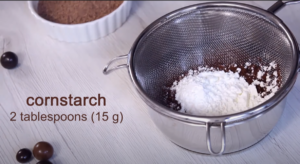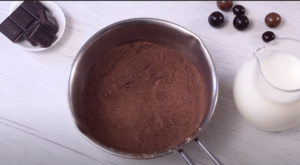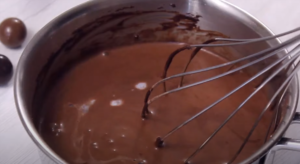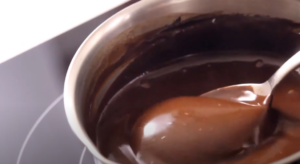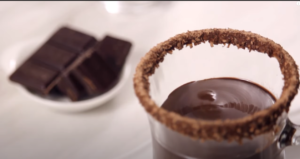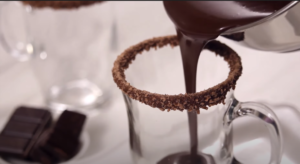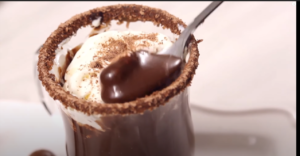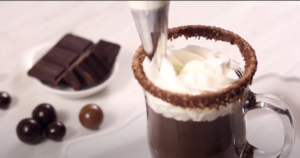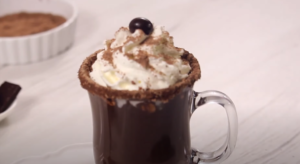 Closing Notes:
[wpdiscuz-feedback id="4q8nm18q72″ question="Please leave a feedback on this" opened="0″]
Please let me know in the comment section if you made this recipe. Share your picture on Instagram and tag me @guru_recipes9.
When I see your pictures, this will be an amazing experience for me. and this will make me smile and motivate me to bring some more delicious and cool stuff for you. Thanks.
[/wpdiscuz-feedback]
Here Are Some More Options:
Chocolate Almond Barfi Recipe.