Chicken burger recipe is a little bit tough to make I mean not very complicated but a little bit difficult if you make this burger for the first time. But believe me, the final results are amazing.
Are You Think To Held BBQ Weekend Party?
Now the wait is over everything is ready for the weekend BBQ dinner party but wait where are chicken juicy burgers. Yes, you heard right if you double up the taste and fun of your weekend party then you must add this juicy chicken burger into your menu.
I Really Like Chicken Burger Very Much.
I personally like this big juicy and creamy chicken burger very much, in the whole weekend I make this about 3-4 times because I love this one and my brother also because they ask me, everyday bro when you make a chicken burger for me.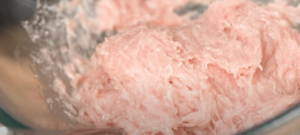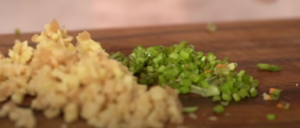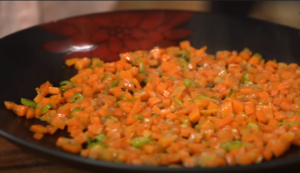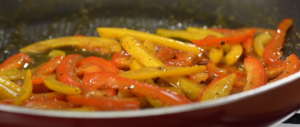 Is Chicken Burger Is Famous World Wide?
Now burgers are very famous all around the world and our next generation mostly dependent on fast food, so don't worry this is perfect for them. One more thing if your kids try this then they fall in love with this chicken burger Just kidding but this is reality, and being a mom they request you on daily basis for this chicken burger.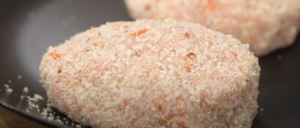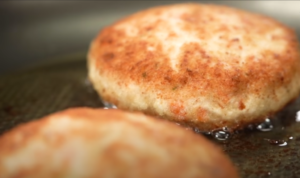 You just follow all the given steps and after that, you can make this chicken burger which is very delicious, spicy, juicy, and tasty. You can further add fries with this. In closing notes at the end of this recipe you can also see some useful tips so make sure first to see that before starting to make a chicken burger.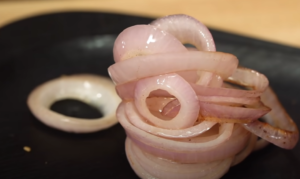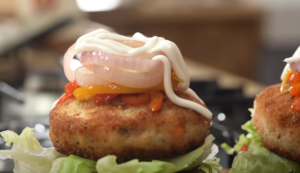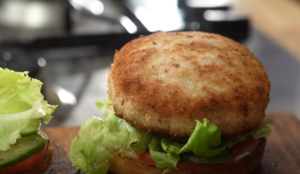 Ok enough talking about this burger now the time to go into the kitchen and start to make this burger.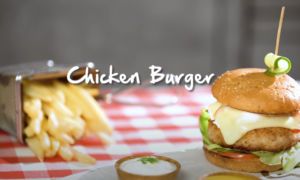 ---
Prepare time: 15 min      Cook: 25-30 min      Ready in 45-50 min  
---
Ingredients For Chicken Burger Recipe:
---
For Sauteed Veggies:
2 tbsp Oil.
1 inch Ginger – chopped.
1 tbsp Coriander Stems – chopped.
2 fresh Green Chillies – chopped.
1 medium Carrot – chopped.
Salt to taste.
Water.
For Chicken Burger Patty:
1 cup Chicken Mince
1 tsp Mayonnaise
½ tsp Black Pepper Powder
⅓ cup Sauteed Veggies
½ tsp Dried Oregano
1 tbsp fresh Bread Crumbs
Oil for frying
Salt to taste
For Filling:
1 cup Cheese – grated
2 fresh green/red chilies – chopped
½ tsp fresh Bread Crumbs
¼ tsp Dried Oregano
For Coating:
Water.
Fresh Bread Crumbs.
For Relish:
1 medium Red Bell Pepper – julienned.
1 medium Yellow Bell Pepper – julienned.
½ tsp Black Pepper Powder.
1 tbsp Mustard Sauce.
1 tsp Honey.
Water.
Salt to taste.
For Grilled Onion:
Take one medium onion and cut it into thick slices.
A pinch of Black Pepper Powder.
1 tbsp Butter.
Salt to taste.
Other Ingredients:
2 Burger Buns.
1 medium Tomato – sliced.
1 medium Cucumber – sliced.
A few Iceberg lettuce Leaves.
1 tbsp Mayonnaise.
Grilled Onions.
Relish.
2 Cheese Slices.
Mayonnaise.
---
Directions For Chicken Burger Recipe:
---
For Sauteed Veggies:
Here we go firstly heat oil in a pan.
Now add ginger, green chilies, coriander stem saute for half a minute, and add the carrot.
Then saute them for a while say 1 minute on a medium flame.
After that add salt, water and mixed it properly once.
Now cover and let it cook for 2-3 minutes or until half has done.
After that switch off the flames and keep them aside to cool down.
For Filling:
First of all, take a mixing bowl and mix green/red chilies, cheese, bread crumbs, dried oregano, and mix everything.
After mixing everything now keep it aside for further use.
For Chicken Burger Patty:
The first step is that take a bowl and add chicken mince, mayonnaise, and mix it nicely until well combined.
Now add salt, sauteed veggies, black pepper powder, dried oregano, fresh bread crumbs.
After adding all things now make sure to mix all things properly and nicely.
Now apply some water to your hands and take a portion of the mixture and spread it a little in your hand.
Then add a generous amount of filling in the center then close up and give a patty shape.
Now roll it in the bread crumbs, keep aside and repeat for the rest of the mixture.
After that take a pan and heat oil in the pan on medium flame.
Now we add patties in the hot oil and shallow fry them until they turn golden brown and crispy from both sides.
Finally, remove and keep aside.
For Relish:
First of all add red bell pepper, yellow bell peppers, salt, black pepper powder in a hot pan and saute for half or one minute.
Now add water, honey, mustard sauce and mix everything properly.
Then continue cooking for 1-2 minutes.
Finally, take it out and keep it aside for further use.
For Grilled Onions:
First of all heat butter in the pan and then add sliced onions and let them charr on high flames for a minute from both sides.
Now take it out and sprinkle some salt, black pepper powder and keep aside for further use.
After that take the same pan and toast both half of the burger buns until they turn golden and crispy.
For Assembling The Chicken Burger:
First of all, apply mayonnaise to the toasted buns.
Then we placed sliced tomatoes, cucumber, some lettuce leaves on the bottom part of the bun.
Now we place the chicken patty then on it add some relish, some grilled onions, more mayonnaise, cheese slices and place the top of the buns and secure it with a wooden skewer.
Finally, after lots of hard work your chicken burger ready now Serve immediately.
Closing Notes:
You can serve this chicken burger immediately with ketchup, mayonnaise, and believe me your kids loved this.
Some useful tips are you can use fish, mutton, prawns mince instead of chicken if you want and you can also freeze chicken patties for future use.
Now if you want to make this burger more healthy then you can use more veggies.
Ok, there are lots of effort and time that I spend to make this big juicy chicken burger If you try this recipe then don't forget to rate this recipe and also give your reaction in the comment below, because I love hearing from you. Thanks,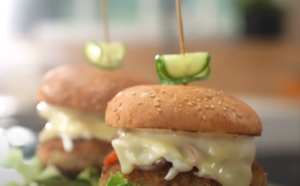 You can also check out this tandoori paneer bread samosa recipe.