2 Ingredient Churros And Hot Chocolate!!
2 ingredient churros and the hot chocolate recipe are super simple to make. Because there is we need few simple ingredients to prepare this recipe.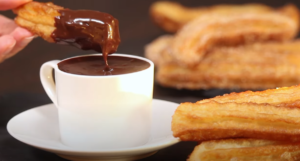 Honestly speaking, you will be loved this 2 ingredient and hot chocolate recipe.
Introduction Of Churros:
Basically, churros are a very traditional Spanish sweet, and they can be enjoyed for breakfast or in the afternoon. Usually, they can be enjoyed with a cup of hot coffee.
But, in my opinion, the best way to enjoy churros is, dipping them in a nice cup of homemade hot chocolate. And believe me, no one even kids will be able to resist this amazing treat.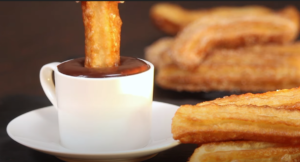 You just need few simple ingredients and less than 30 min to make hot, fresh, crispy homemade churros with homemade hot chocolate.
Add some freshly made hot churros and you are in chocolate heaven.
This quote is quite popular and you must hear this one, "Good things come in small packages". Maybe you did not agree with this, but in my opinion, this quote is particularly true when it comes to sweet stuff and desserts.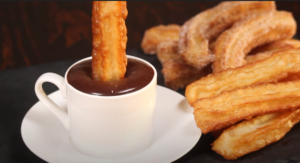 As we all learned at our young age, When something is good, I mean really good. A small portion is a plenty to satisfy a sweet craving. Sound crazy. Ok.
I dedicate this delicious and yummy 2 ingredient churros and hot chocolate recipe to all of you foodies, I mean chocolate lovers. And I hope you will enjoy this one.
I Love This Best Combination:
Believe me, I try this combination the very first time. This first experience with 2 ingredient churros and hot chocolate is just amazing. I can not explain the flavor and taste of this Recipe.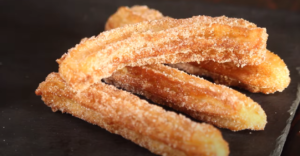 When you dip the fresh and hot churros into a nice cup of freshly homemade hot chocolate and take your very first bite. Believe me, You will feel as you are in chocolate heaven.
Ingredients For Making 2 Ingredients Churros And Hot Chocolate:
---
Ingredients For Churros Dough:
All-purpose flour – 240 grams.
Water – 1+1/2 Cup.
Peanut oil or vegetable oil for deep frying.
Salt – 1/2 tsp.
Ingredients For Hot Chocolate:
Milk – 1/2 cup.
Dark chocolate(70% cocoa) – 50 grams(chopped in large chunks).
Unsweetened cocoa powder – 2 tsp.
All-purpose flour or cornstarch – 1 tsp(optional: use it if you want a thicker consistency).
Sugar – 2 tbsp.
Directions For Making 2 Ingredients Churros And Hot Chocolate:
---
Directions For Making Churros:
First of all, bring the mentioned amount of water to a boil.
Take a large heatproof bowl and meanwhile sift and mix flour and salt in this heatproof bowl.
Now, pour the hot water over the sift flour at one time.
Make sure to mix hard this flour until you get a smooth dough.
After mixing, cool it down slightly.
Meanwhile, heat peanut oil or vegetable oil at about 350°F-180°C for deep frying.
Now, transfer churros dough into a thick piping bag with an open star tip(1M). Now, if you have a thin piping bag, use two of them to avoid breaking since the dough is thick.
Here is a thing, that you can fry churros in two ways:
The first one is, you can pipe the churros dough directly in the hot oil and cut the dough using scissors.
The second one is, you can pipe the dough over a lined baking tray, and then freeze them for about 30 min or just until hard, and then fry the frozen churros in hot peanut or vegetable oil. (Personally, I suggest you use this second method because if the dough is too thick for you to easily pipe it. But, if you don't feel comfortable with this one then directly pipe it in hot oil.
While frying the churros turn churros to evenly golden. Because these churros are ready when they are evenly golden.
Just take it out when churros are evenly golden and drain over a paper towel.
You can roll churros in cinnamon sugar mix, or just dip them in hot chocolate.
Directions For Making Hot Chocolate:
First of all, take a small saucepan and sift cornstarch and sugar together and mix properly until combined.
Now, add sifted cocoa powder and mix properly.
Add milk gradually and mix until combined.
Add chopped chocolate and bring to a boil over low-medium flame.
Boil for 1-2 minutes over a low flame or until you get your desired creamy consistency(Remember, the more you cook, the more it will thicken).
Finally, serve immediately and dip churros.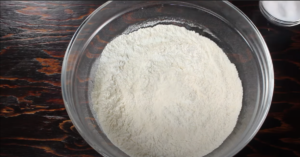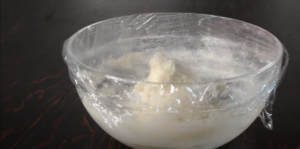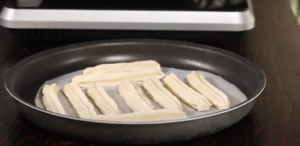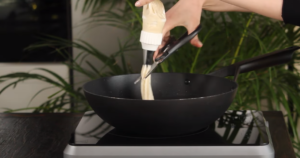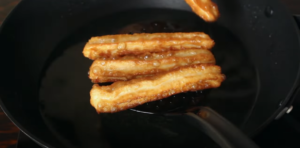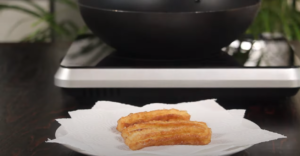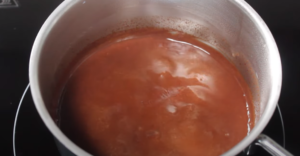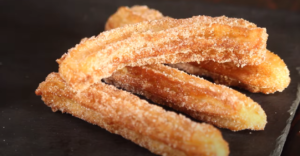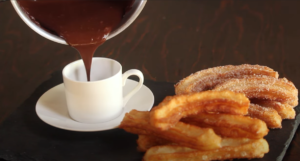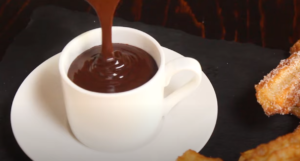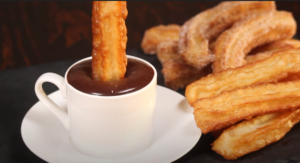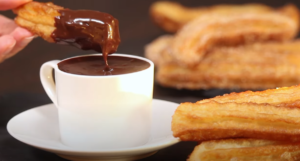 Closing Notes:
Ok, finally our delicious and yummy 2 ingredient churros and the hot chocolate recipe is ready to serve. Remember, serve immediately this dish.
Now, if you try this delicious and unique 2 ingredient churros and hot chocolate recipe. Then just post the picture of your recipe on Instagram and tag us by typing @guru_recipes9 on Instagram.
I will be very happy after seeing your recipe pictures. And kindly tell me in the comments section about this recipe. Because this is just a motivation for me. Because, after reading your comments i will be more pumped and motivated to post some more delicious and unique recipes for you. Thanks.
Here Are Some More Options:
Creamy Italian Hot Chocolate Recipe.