BBQ chicken tikka recipe belongs to the Mughlai dish and this dish is very famous in Pakistan as well as in India. BBQ chicken tikka recipe is one to try out if you want to have a fancy dinner or want to impress your family members. This is super easy to prepare and gives you a unique taste of Chicken in the shape of a tikka.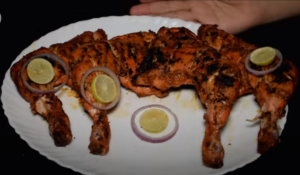 Chicken tikka BBQ is the most famous south Asian cuisine and it makes its place all around the world due to its taste. If you are living on a deserted island, I bet you, you tried this chicken tikka BBQ at least once in your whole life, as you eat biryani, omelets, shawarmas, or burgers.
Now, there are lots of different variations available on the internet, how to make chicken tikka. And that great thing is that in dd one more recipe in this chicken tikka recipe list.
King Of BBQ Family.
If you say BBQ chicken tikka is the king of the tikka family, then this is not wrong. Because this is quite popular and famous in Asian countries like India and Pakistan. And you can find chicken tikka bbq easily in any street or in any restaurant menu.
I know very well chicken tikka is always at the top of the list and top in-demand recipe, but today I will show you something different from usual. Now, instead of eating the usual bbq chicken tikka from restaurants, try this one. Because this is juicier and more aromatic than usual ones.
What Kind Of Chicken do We Use In Chicken Tikka BBQ?
In this chicken tikka bbq recipe, we use chicken leg pieces. Usual, you can see in restaurants, that they use chicken breasts instead of using chicken leg pieces. You can also use chicken breasts instead of chicken leg pieces. There is no issue. Just use chicken breasts, while all the processes remain the same.
I personally like to use leg pieces because this is juicier and yummier as compare to chicken breasts. If I make chicken tikka bbq for family or any special occasion, then I use chicken breasts, because many peoples don't like leg pieces tikka. So, that's why I use chicken breasts.
Chicken Tikka BQ Is Healthy Way To Cook Chicken.
I know very well, I every weekend I make this chicken tikka bbq for my family. All family members including the kids loved it. For making chicken tikka bbq light, make sure to remove the skin from the chicken properly.
This can be a protein-packed healthy meal. Now you can make this recipe in a hot oven or you can BBQ it. The choice is yours. But personally, I recommend the BBQ method. Because you can feel the taste of charcoal smoke as well and that is amazing.
Something Special About Chicken Tikka BBQ.
I know every recipe has some special features and that one also has some. This is always crowd pleasure/favorite, easy to cook, and healthy. It makes a perfect combination of sunny days.
The aroma of marinated chicken cooking with its moist juices is just mouthwatering. Sprinkled some chat masala and served along with mint chutney and along with some salad in sunny sunshine weather just surprised you.
Can We Freeze The Chicken?
Yes, of course, you can freeze your chicken for up to 2 months. If you want to prepare a meal in advance and you want all things are ready instantly. So, just marinate your chicken with the steps given below and freeze it immediately. The best thing is that it stays safe in the freezer for up to 2 months. And when you want to use this chicken for your chicken tikka BBQ, just remove it from the freezer, and once it's thawed, BBQ it.
Why I Loved It So Much?
Well, I am a huge fan of every kind of food. But some are very special and one of them is the chicken tikka bbq recipe. Every Friday night, I enjoyed the chicken tikka bbq with my family. And I eat more than everyone eats. Lol.
You can smell the marinated chicken and this smell increase your appetizer believe me or not, this is a mouthwatering juicy dish and everyone loved with BBQ chicken tikka recipe dish. Just squeeze lemon on it and sprinkle chaat masala to make it more spicy and delicious.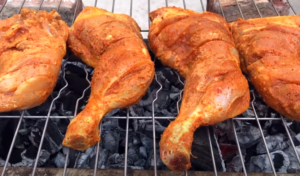 In winters, everyone would like to spend their time by making BBQ on their Lawn or rooftop and everyone wants their BBQ to be juicy and tasty. Now if you have a friend circle that loves to eat with friends then you must try out this. This is very easy to cook and if you make your sunny day enjoyable then just gather your friends and make BBQ tikka at home and just enjoy and chill.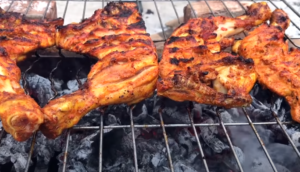 ---
Ingredients For BBQ Chicken Tikka Recipe:
2 Chicken leg pieces.
Garlic paste 1 tsp.
Lemon juice 3 tbsp.
Crushed black pepper 1/2 tsp.
Turmeric powder 1/2 tsp.
Allspice powder 1/2 tsp.
Red chili powder 1 tsp.
Hung curd 4 tbsp.
Yellow color 1 pinch.
Oil 1 tbsp.
Salt to taste.
Directions:
First of all mark cuts on chicken.
Now take a bowl and put all ingredients in the bowl and mix it properly.
After mixing all ingredients now marinate chicken with this mixture.
Now grease oven tray with oil.
Then keep marinated chicken in this tray, bake it at 180 C for 30-40 minutes or time as needed. or steam it in the steamer, and then fry it or you can also use coal for BBQ tikka.
Finally, take it out in a serving dish and serve hot.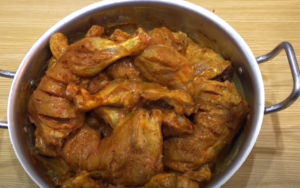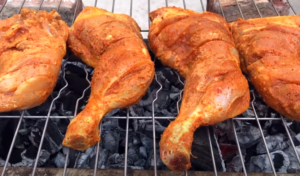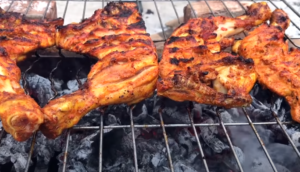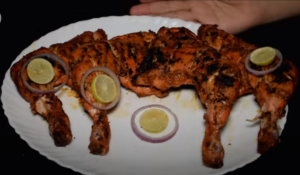 Closing Notes:
Now you can serve BBQ tikka chicken dish with green chutney, tamarind chutney, or with mint tamarind mixed chutney.
if you try this recipe then don't forget to rate this video and also give your reaction in the comment below, because I love hearing from you. Thanks,
you can also check out this chicken malai tikka recipe.
you can also check out this malai chicken recipe.